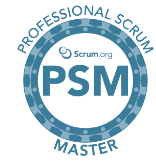 Scrum Master
Course Overview
The course, developed by Scrum.org, uses a combination of instructor-led and activity-based learning where students work together in teams. Professional Scrum Trainers (PSTs) bring their own Scrum Master experiences and stories to the class and use their skills as professional trainers to deliver the material using their own unique delivery style. The result is an engaging, enjoyable learning experience where students gain a deep understanding of Scrum theory and principles, the Scrum Master accountabilities and why each element of the Scrum framework is important.
Students leave this course with an appreciation for Professional Scrum, the agile mindset and how to deal with common myths and impediments to agility. They gain the knowledge and understanding about how to choose and apply the appropriate practices and techniques that will be most beneficial for their Scrum Teams.
Who Should Attend
This course is appropriate for students in any industry where teams are working to solve complex problems. The Professional Scrum Master course is for:
Practitioners that are interested in starting a career as a Scrum Master
Scrum Masters, Agile/Scrum Coaches and consultant looking to improve their use of Scrum
Anyone involved in product delivery using Scrum
Professional Scrum Certification
All participants completing the Professional Scrum Master course
Register on scrum.org.
Buy it scrum open – Payment of Dollar 115 Can be Made using credit card. Prefer your choice of Payment.
Received the password almost instantly though message says it may take 1 business day
The industry-recognized PSM I certification requires a minimum passing score of 85%.
Course Duration
16 Hours of Live Instructor-Led Online Training
Agile Basics
Why Agile
Agile Vs Waterfall
Agile Values and Principles
Agile Behaviors
Productivity…and the people
Generating Ideas, Product strategy, and Vision
Solution Capabilities
Incremental Delivery
Scrum Framework
 Scrum Overview
 Scrum Principles and Values
  Scrum Roles
Scrum Events
Sprint
Sprint Planning
Daily scrum
Sprint Review
Sprint Retrospective
Scrum Artifacts
Product backlog
Sprint backlog
Increment
Backlog Refinement
DoD
Estimation
Burn down and up charts
Story Points and Velocity
Release Planning
Scrum master
Characteristics and Challenges
Facilitation Techniques
Scrum master service to PO, Dev Team and Organization
Hands on experience in Jira Tool
Scrum Guide
Nexus Guide
Agile and Sprint Templates
Case study
Comprehensive Exam Support
Assessments links to get prepared for Global certification